Pastoral and Support Staff

Pastor Kris Beckert
Table Life Church is pleased to announce that Pastor Kris Beckert is our new lead Pastor!
Pastor Kris will officially join Table Life Church Monday, June 21, 2021 and her first Sunday will be June 27th. More information and a mini bio to come.
Contact Information for Pastor Kris:
email:
pastorkris@tablelifechurch.org
phone: (717) 774-6444 ext. 102

Pastor Jeff Wolfe
Pastor of Christian Formation
Pastor Jeff brings a wealth of experience and knowledge to his role as Pastor of Christian Formation at Table Life Church. Along with his leadership in our worshiping community, Jeff is also a licensed counselor, dad to six, and grandpa to five.

Pastor Becky Wolfe
Pastor of Children's Ministry
Becky has been working with children for over 30 years. She was ordained in the Church of the Nazarene in 2019 and has studied at Nazarene Bible College. Becky now runs our Children's Ministry. She is a proud mom of six and has five grandchildren.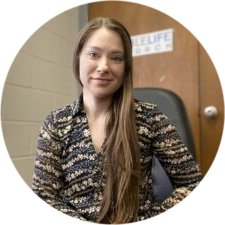 Church Office Administrator and Church Board Secretary