Pastoral and Support Staff

Pastor Kris Beckert
Pastor Kris grew up in the Philadelphia region and was trained as an environmental scientist before God changed her plans and called her into ministry. In addition to being known as the "Pastor of Fun," you may see Kris running around New Cumberland or playing hockey. She is always up for a good cup of pumpkin spice coffee and conversation about life and faith.

Contact Information for Pastor Kris:
email:
pastorkris@tablelifechurch.org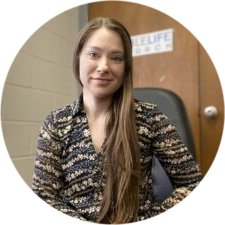 Church Office Administrator
Bekah grew up in Central PA and, after attending ENC where she earned Bachelor's Degree in Psychology, returned to PA to work in the community serving individuals who are differently-abled physically and/or intellectually. Bekah also got her Mrs. degree at ENC and has been married to Alan Kratzsch for 16 years. Alan & Bekah have 2 children: Genevieve, 13, and Alan J. (Yossi), 3. Bekah has been the church office administrator at Table Life Church since December 2019.

Pastor Becky Wolfe
Pastor of Children's Ministry
Becky has been working with children for over 30 years. She was ordained in the Church of the Nazarene in 2019 and has studied at Nazarene Bible College. Becky now runs our Children's Ministry. She is a proud mom of six and has five grandchildren.