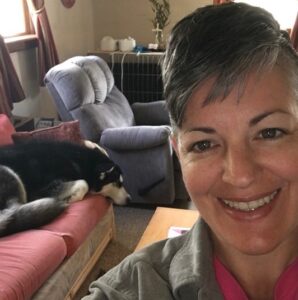 Sabrina (And Sasha) Baker
What activities are you doing in your home to pass the time?
Hi family! I sure do miss seeing all of you. Sasha and I are doing well. She is loving having her momma home! She sleeps most of the day while I am working but we try to get a couple of walks in each day. Being able to work from home, I've been able to begin new habits. One being that I begin my day listening to the pray as you go app before logging in to work. Beginning my day this way has helped get my mind in the right place. I've also picked up on little words I feel God is sharing with me such as Peace, Joy, Goodness, God's truth and Trust. All great reminders of what God truly desires for us.
Who do you keep in touch with during this time?
I have since settled in to a routine and am getting my energy by staying in contact with my mom, my sister in law and niece daily via text. I also speak on the phone to one of my friends daily and text with Jane and the ladies from my At the Cross group. They have all been a blessing through this transition.
What do you miss most about being together with the people of Table Life Church?
You all have become my family and I missed seeing you and the energy you provided as we worship together.
How can we pray for you?
At the beginning, my introverted self was like 'woo hoo, this is awesome'. I organized like crazy but after a few weeks it hit me just how much I missed my people. I know this situation is not ideal but I trust we will be back together again soon and when we are hugs for everyone!
Peace and joy to you all!
Love,
Sabrina and Sasha