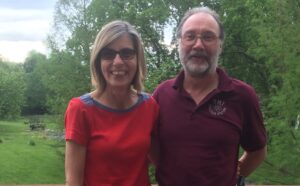 Who is in your home?
Dave, Delores, and our adult son, Brian
What are you doing together or separately to pass the time?
Together Dave and I have been taking a lot of walks. We average 4 miles a day of walking. We also watch old movies (nothing new here) and play an occasional game with Brian. Dave has been busy with projects around the house. The honey-do list is pretty long! He also has been doing some reading. I can continue to work for Mechanicsburg School District as an instructional assistant so I sit on on Zoom classroom meetings and approve/correct classwork for a few second grade teachers. I also continue to go to my mother's house once a week to do her laundry and shopping. So far she has stayed healthy during this time for which we are very thankful. For fun, I have been working on an afghan that my mother started knitting for me when I went to college in 1976! I am nearly done with knitting all the squares (it is a patchwork pattern) and soon will start hand sewing it together. You can understand why my mother never finished it and I have ignored it for years! have promised myself that I will finish it this year!
What do you miss most about being together with the people of Table Life Church?
We miss the routine of physically going to church on Sunday morning and seeing/hugging/interacting /laughing/ singing/worshipping with people who have been such an integral part of our lives for so many years! And of course, we miss Tomi's hugs!
How can we pray for your family?
Please pray for wisdom for me (Delores) as I contemplate when and if should return to work at the orchard. I have not started there this season because of caring for my mom. I don't want to expose myself and subsequently her, to any illness.