Pastoral Transition Update
→ We all took the Congregational Survey in November 2020.
→ The church board reviewed the results of the survey with Dr. Bowser on 12/6/20.
→ A small team composed of board members met on 12/20/20 to develop a Pastoral Profile draft based on the Congregational Survey results.
→ The church board met on 1/3/21 to review, edit, & accept the Pastoral Profile.
→ We will have a Zoom Congregational Meeting on 1/17/21 at 6pm to review the Congregational Survey results and Pastoral Profile. We will also get more information from Dr. Bowser about the transition process.
→ The Church Board meets again on 2/7/21 and 2/21/21.
→ Contact any church board member (Listed below) or the church office if you have further questions.
For more information about how the Pastoral Call process works, please read Steps in Calling A Pastor
• Michael Border, Facilities & Finance
• Michele Buhr, Care & Community
• Joel Dunlap, Christian Formation & NYI President
• Andre Gann, Care & Community
• Wendy Giffin, Christian Formation
• Benjamin Hodge, Missional Engagement
• Jennifer Hodge, Treasurer, Facilities & Finance
• Frank Myers, NMI President
• Bekah Kratzsch,

Church Board Secretary
•
Dr. David Bowser
,
Chair & District Superintendent
*The Church Board will meet again on February

7,

2021*
Congregational Meeting
Join us for a congregational meeting Sunday January 17, 2021 at 6pm on Zoom:
Meeting ID: 895 1058 9510
If you are in the church directory, you will also receive an email with the Zoom login information
.
You can also watch the Congregational Meeting
online by clicking the picture below: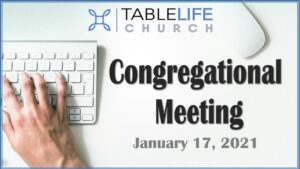 If you have questions, please contact
Bekah at the church office:
(717) 774-6444 or office@tablelifechurch.org